Nothing feels more beautiful than finally realizing that you have found the right one. Everything seems perfect about your partner which makes you want to spend all your time with them. If you have finally made the choice to do the right thing, (that is to propose your partner), then finding the right engagement ring is what you should be concerned about as of now. This can be quite a tough decision to make as you really want to impress your partner and for that, you should know what kind of rings your partner likes and what are the current trends in engagement rings in 2019 and your budget.
Depending on what your partner's choice of engagement rings are, you should also search for the latest trends and maybe indirectly ask your partner what they like in a ring. In 2019, many new varieties of rings have arrived, like black titanium rings. These rings are very popular right now and many couples are buying it to propose their partners. The best part about these rings is that they are of great quality with reasonable prices – no more than $70, that you will really find worthy of investing in.
1 – Black and Silver Titanium Band: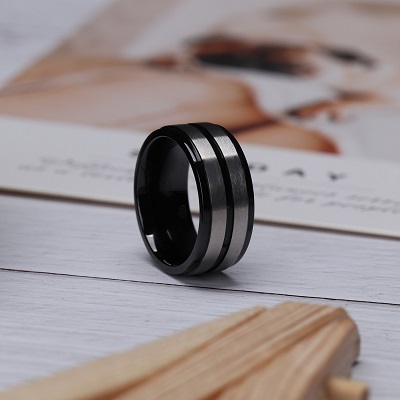 This classy ring is one of a kind due to its unique design. It has a double silver center with a matte finish and also has the option of getting names engraved on the inner dome. The ring is light in weight, has a comfortable fit and has a polished texture overall. If you are really concerned about a good investment in engagement rings, then you will not regret buying this one as it has a reasonable price set according to the quality of this beautiful ring.
2 – Black Engagement Ring with Multi-Color Groove: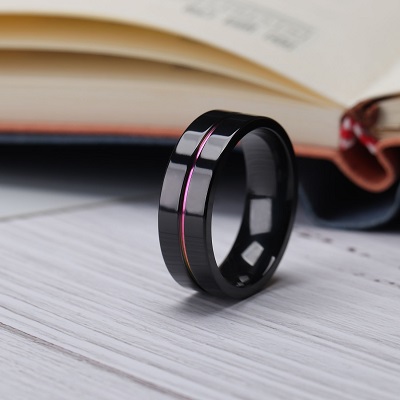 If you and your partner are big fans of artistic items, then buying this multi-color titanium ring would be the right thing to do. This amazing ring has a modernistic touch to it with a well-polished finishing and the option of getting a couple's name engraved inside the dome of the ring. This ring is very eye-catching and if you and your partner have a habit of matching things, then getting the same engagement bands like this one will solve all problems.
3 – Black Titanium Carbon Fiber Inlay Ring: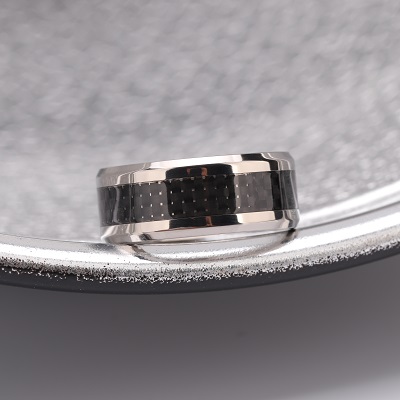 Sometimes, it's okay to invest in something high-priced that is super-classy. When you spend a little more than usual on something that attracts you that you find of really good quality, it makes you happy. This ring is worth the buy as it is entirely made of titanium with a carbon fiber inlay. This really makes the ring weightier, yet comfortable and skin-friendly. This can be just the right choice for an engagement ring.
4 – Black Titanium Ring with Silver Edge: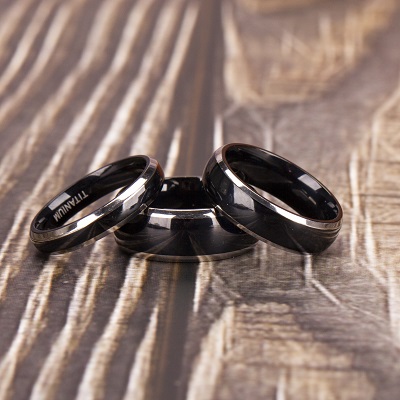 Who doesn't like to wear an edgy ring all the time? If you're a fan of black color with a silver combo, then this should be on your mind to buy. This ring has a well-polished titanium body with a comfortable fit. It is available in 6mm and 8mm thickness with long-lasting durability. You can also get names engraved on the inner side of the dome as a special memory which makes it the right choice and investment for an engagement ring.
5 – Black Titanium Ring with Stepped Edge: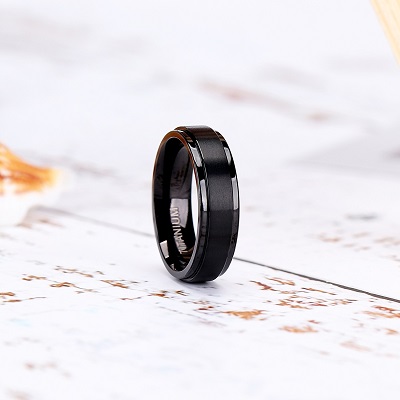 If you are looking for simple designs, yet very edgy, then go for this jet-black stepped edge engagement ring. It has a matte finish that is super skin-friendly due to its titanium body which also makes it hypoallergenic. If you really want your ring to make a statement with everyday wear, then choosing this ring is the right option to go for. It is a durable, comfortable fit is available in 6mm and 8mm thickness and has a reasonable price which makes it worth the investment for an engagement ring.
6 – Black Titanium Ring with Flat Brush Comfort Fit: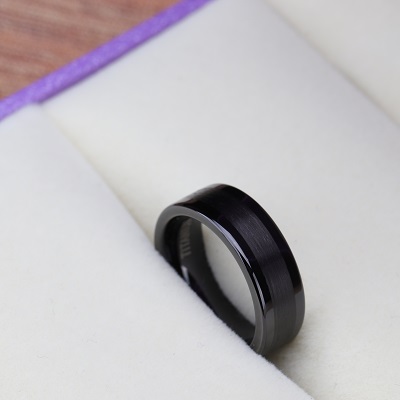 If you are looking for a ring that can be worn on a daily basis without having discomfort or skin irritation, then this is the right choice to buy. It is made out of genuine titanium, is skin-friendly and has a brushed finishing with light-weight and long-lasting durability. It is pure black in color available in 6mm thickness and also has the option of getting names engraved on the inner side of the ring's dome.
All in all, making a good investment in engagement rings that are trending, made of titanium which is good-quality, has long-lasting durability with comfort fit is all worth the pay.