1. Why Are Sterling Silver Rings Turning Your Fingers Green? 
2. How Can You Prevent Your Fingers Turning Green?  
3. What to Do When Your Fingers Turn Green? 2
Finding the right jewelry isn't always easy. When you finally find the perfect ring that speaks to your personality and fits your day-to-day style, it makes sense to get excited. The only thing that may disappoint you is noticing a green tint on your finger. Anyone who loves wearing rings has experienced this harmless but unsightly inconvenience. There's more behind the green tint than just the passage of time or the quality of your jewelry. Understanding why some jewelry turns your fingers green will help you learn what you can do to both prevent and resolve the issue.
1. Why Are Sterling Silver Rings Turning Your Fingers Green?
The real reason behind the development of a green tint on your skin lies in a ring's metal composition. There are some important things you should know about your sterling silver rings:
Pure silver generally takes a liquid form
Jewelry made from silver needs to be alloyed, or blended with another type of metal.
The most common type of metal combined with sterling silver for the purpose of jewelry-making is copper.
When your jewelry is made of 925 Sterling Silver and 925 Sterling Silver plated with 14kt Yellow or Rose Gold, it means that the composition is 92.5% pure silver which has been alloyed with 7.5% copper. The mix with copper offers the durability that's necessary to create jewelry.
While the copper is a vital part of the creation process, it tends to result in the green coloring on your fingers. Keep in mind that everyone's skin reacts differently to copper. There are many reasons that people react differently to copper, including:
the varying content of chemicals in the skin.
the composition and severity of sweating.
the products and creams one uses.
2. How Can You Prevent Your Fingers Turning Green?
Now that you've learned the reasons why your sterling silver rings turn your fingers green, it's time to find out what can be done to deal with this issue. There are ways as follows to prevent your fingers from turning green.
Avoiding Low-Quality Jewelry: Always wear high-quality jewelry, especially rings that won't turn your fingers green. It doesn't matter if it is sterling silver, gold, or platinum, it should be 100% real without anything else mixed, unless mentioned otherwise. Therefore, you should always buy your jewelry from trusted retailers. Even if you are buying from a local jeweler, you should have full confidence in them, and look for the hallmark of every jewelry item that you buy. All sterling silver jewelry articles will have '925' stamped on them, which ensures 100% authenticity.
Keep Your Jewelry From Moisture: Sterling silver contains some copper which can come in contact with moisture and make your jewelry tarnished. This tarnishing effect may cause your finger turn green, which is the reason you should avoid wearing jewelry in environments with more moisture than usual. Some instances where you should avoid wearing sterling silver jewelry are swimming pools, sauna and steam baths, while cleaning around, while washing clothes/utensils, etc. If your sterling silver jewelry comes in contact with moisture, make sure you wipe it completely dry so that no moisture is left in the difficult-to-reach areas. Do this, and your jewelry will remain as shiny as new for decades to come.
Use Clear Nail Polish or Jewelry's Shield: If you are allergic to copper, both the methods mentioned above will not help, because even the best quality sterling silver will contain copper. So, this is where you use the coating method. Try clear nail polish of buy jeweler's shield from the market, which is made for the sole purpose of stopping such reactions. Apply a layer on the inside of your sterling silver ring and let it dry for about half an hour. If you are using clear nail polish, it might last for 4-6 days, and if you are using the jeweler's shield, it will last for about two months with regular usage and about three months with less frequent usage. This method can work for any metal that you may be allergic to.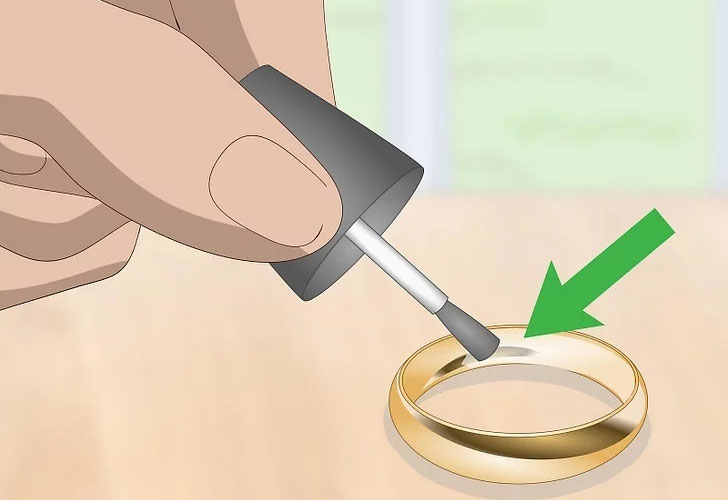 3. What to Do When Your Fingers Turn Green?
If your fingers have already been colored green by your sterling silver rings, there are a few simple ways you can remove the stains.
Eye Makeup Remover & Rubbing Alcohol: If you have sterling silver rings, it's a good idea to keep some waterproof eye makeup remover, or rubbing alcohol, on hand just in case you need to remove green stains. Use this method for small stains.
Non-Acetone Nail Polish Remover: For more drastic, dark green stains, nail polish remover may be necessary. This method can be quite harsh and should not be used more than once per week.
Your sterling silver rings needs some care, and so does your skin, especially if it is sensitive to copper. Most people's skin does not react copper and is only seeing the green marks because of too much moisture around the jewelry item. Just make sure your sterling silver jewelry is well protected and if you are still not sure what to do, please feel free to consult us via customer@findurings.com to know more on how to clean and maintain your sterling silver jewelry. Combined with that, the above points will definitely help you steer clear of the green finger stains and make your jewelry shine brightly for years on.