In order to clean the ring, you need to know the type of each metal. Different metals react differently to chemicals. You can wipe the aura with a soft cloth and warm water to remove light dirt. Use jewellery-specific cleaning products to remove heavier stains, or use a toothpaste to gently brush the ring. You can also soak the ring in water and ammonia to remove stains. If your ring is particularly complex or valuable, consider taking it to a jeweler for professional cleaning. Here are the guidelines for how to clean the rings of different metals.
Contents
1.How to Clean the Tungsten Ring?
2.How to Clean the Sterling Silver Ring?
3.How to Clean the Titanium Ring?
4.How to Clean the Stainless Steel Ring?
5.How to Clean the Ceramic Ring? 
How to Clean the Tungsten Ring?
Tungsten carbide rings do not require frequent maintenance. However, it is a good idea to wash the ring thoroughly and occasionally, in case it is unknowingly exposed to certain irritating chemicals. Do not use harsh chemicals or polishes to clean your tungsten ring.
Cleaning method for tungsten ring:
1. Make a cleaning solution. Just add some warm water and a few drops of household detergent to the container.
2. Scrub the ring with a cloth and a brush. Soak the ring in the solution to remove dirt from the surface. You may also need to use a toothbrush to brush the ring, especially if it has a brushed surface, groove or grain pattern.
3. Rinse the ring with clean water. Finally, rinse the ring with water and dry with a clean cloth.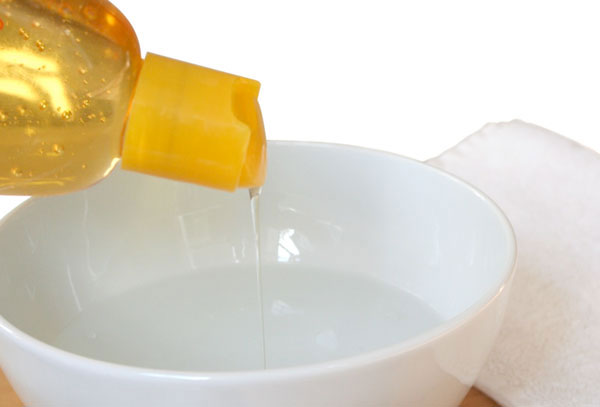 Store your tungsten ring separately. Tungsten is an extremely hard metal. Although it is scratch resistant, it is also more likely to scratch and damage jewelry made from softer metals. When storing the tungsten ring, place it in a safe place, like a soft bag. Keep your tungsten ring away from chemicals, such as bleach.
How to Clean the Sterling Silver Ring?
Silver will be tarnished when it comes into contact with certain environmental contaminants, which usually react with oxygen, making it easy to corrode and discolor. The following methods tell you how to clean your sterling silver ring.
You can clean your sterling silver ring with a simple chemical reaction:
1. Prepare baking soda, salt, aluminum foil and boiling water.
2. Align the glass baking tray or kitchen sink with the aluminum foil with the dim side facing down.
3. Place the ring on top of the foil.
4. Then pour boiling water on the ring until they are covered and add baking soda and salt. Stir to soak the baking soda.
5. Wait for the reaction to occur. Let the sterling silver ring sit in the solution for 5 to 10 minutes.
6. Rinse and polish the ring. Remove the silver ring from the solution and rinse with warm water. Gently dry the ring with a soft cloth.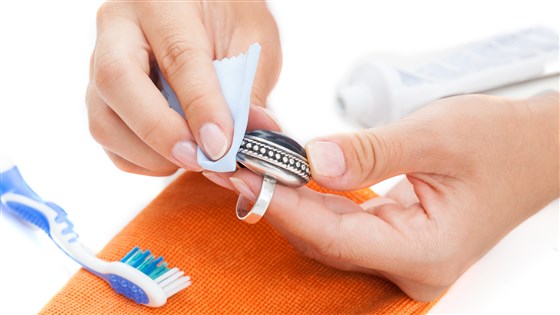 Keep the silver ring away from substances that can cause discoloration. Anything that contains sulfur will tarnish the silver ring. To prevent this from happening, keep your silver ring away from sweat, rubber and latex, lotions, creams and beauty products. When you swim in chlorinated water or do housework, it's best to take the ring off because there are many things that can make the silver ring tarnish.
How to Clean the Titanium Ring?
Titanium is durable, lightweight, resistant to discoloration and hypoallergenic. These properties make titanium an ideal material for jewelry production. Titanium jewelry is easy to maintain, but your titanium ring may be damaged in your daily life. As long as it is properly maintained and cleaned, it will be as clean as new.
1. Fill a small bowl with warm water and about a teaspoon of mild hand sanitizer or soapy water.
2. Place the titanium ring in the bowl, let it soak for a few minutes, and scrub with a soft brush.
3. Rinse the ring with warm water and dry with a microfiber cloth.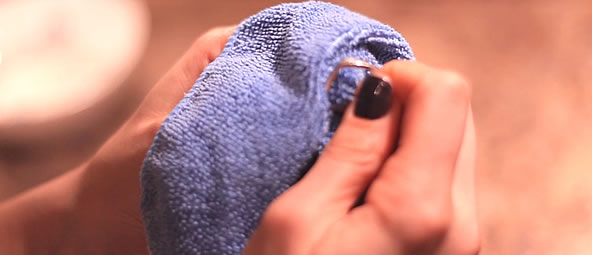 Some titanium rings are decorated with soft stones such as pearls, opals and corals. These should not be soaked and scrubbed, but can be wiped with a damp jewellery polishing cloth to remove dirt and restore shine.
Keep your titanium ring
You can use a polishing cloth to keep the gloss of your titanium ring. Jewelry polishing cloth is affordable and can quickly remove water stains and daily residue. If your titanium ring looks dull after thorough cleaning, you may need to have it professionally polished to restore shine.
How to Clean the Stainless Steel Ring?
Stainless steel rings are popular because of their light weight and stylish appearance. If you keep it clean, it can last a long time and looks like new. But when it's dirty, you need to clean it up.
1. Fill the two small bowls with warm water. Add 2 – 3 drops of mild dish soap to the first bowl.
2. Dip a corner of a soft, lint-free cloth into soapy water.
3. Rub the ring with this cloth. The patterned ring must be wiped along the lines, otherwise your ring may be damaged.
4. Dip the ring into the second bowl of water to clean. Gently rock up and down to remove any soap residue. Until thoroughly cleaned.
5. Dry the water on the ring with a dry cloth.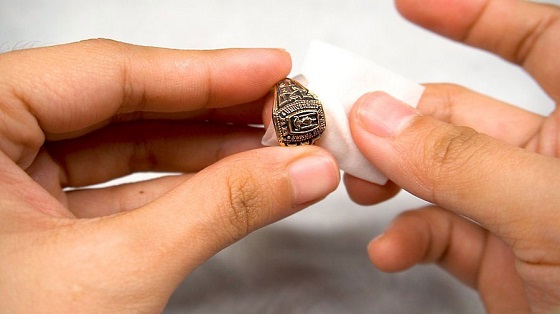 If you have a lot of details on your ring, wrap it in a cloth and wait a few minutes. This will give the cloth some time to absorb excess water.
Although the stainless steel ring does not discolor or corrode, but it can be scratched. If your ring is scratched, you can always polish it professionally by a jeweler. Separate the stainless steel ring from jewelry made of other metals. It is best to put the stainless steel ring in a separate bag.
How to Clean the Ceramic Ring?
Ceramic is a very hard material that is harder than most metals. Therefore, in normal wear, it is often "dyed" by residues from other materials. If the ceramic ring has many brushed finishes, it can transfer some metal to its surface to form a mark when it rubs against any metal. How to clean ceramic rings?
1. Prepare a sanding polish (such as Brasso) or a glass cooker cleaner. Toothpaste can be used, but toothpaste is usually not as effective as a special cleaner.
2. Dip the polishing agent with a paper towel or cloth, and then smash back and forth according to the direction of the wire drawing. If the ring surface is smooth, a circular motion is used. If the ring is gold or silver, be sure not to let the polish touch these areas to prevent the polish chemicals from removing or damaging them.
3. Clean with water.
4. Wipe dry with a soft and clean cloth.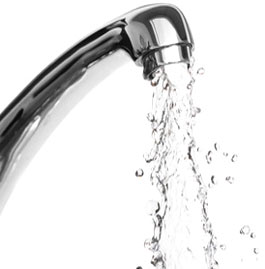 The ceramic ring is quite durable and basic maintenance will keep it in good condition. Although this material is very strong and not easily scratched, it can be broken, so it is best to give the ceramic ring a slot or space in the jewelry box.