A wedding ceremony is indeed the most beautiful event in every culture. From the bride walking down the aisle to the couple saying "I do"; every moment is very precious. But what does actually make a wedding memorable? It's the rings that really remind you of the most important day in your life. When you get married, life gets really busy with the new responsibilities and staring a family or so, but to really remind you as to why you're doing this, it's the gift that couples give to each other get from their close ones in the form of wedding rings to wear every day as reminder of their new life.
Thanks to the latest trends, wedding bands have taken a completely new turn in styles, colors, shapes and a variety of them being made with different materials. You'll find a vast range of rings that are available apart from golden, silver and bronze. You'll find rings made of tungsten, sterling silver, stainless steel, ceramic, rose gold materials and also camo style rings with the most beautifully polished, brushed and shiny finishing's.
There are new styles of getting names, symbols or anything that you would like mentioned on the ring as an engravement and you can even get your engagement ring matched with your wedding ring. There is so much that has advanced in giving or buying a unique wedding gift in 2019, that it will actually become quite a tough choice to make in selecting the right kind of ring as a wedding gift. To have an idea as to what kind of ring would be a good choice to gift, you can take a look at these beautiful camo rings along with links to shop them.
Camo Ring with Deer Antler: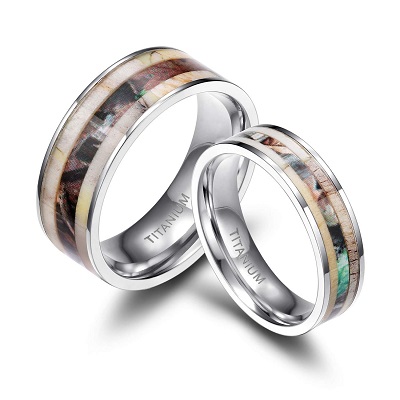 If you and your partner are animal lovers, then you should definitely opt for this beautiful camo ring. It has a deer antler print in the center of the dome. Since the deer antler is of raw nature, the color of this cannot be controlled and it might turn out to be different. Although it seems quite thick, it is not as heavy as it seems, it is quite comfortable to wear and is also scratch and corrosion resistant.
Camo Wedding Ring with CZ Stone: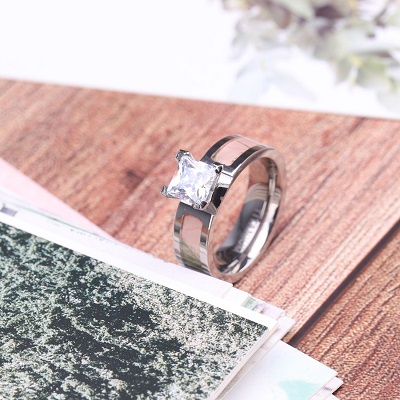 Camo rings have a great variety and we're sure you will fall in love with this one. It has a beautiful CZ stone encrusted onto it with a camo design at the center of the dome. If your lady loves diamonds, this ring will be the perfect one to gift her and make her feel special.
Pink Flat Camo Wedding Ring: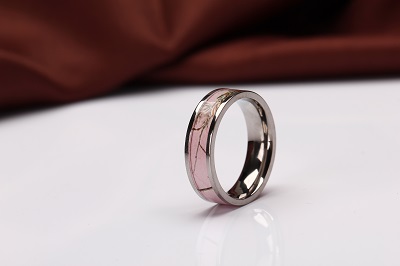 Pink is now a very trending color in rings. It's not just for women to wear, but men can also wear this pretty color too. You can get a matching pair of these to gift on the wedding and it'll definitely make the couple happy. It has a very attractive camo design in the center while the body is made of scratch and corrosion resistant stainless-steel material. It is a comfortable fit and has a long-lasting shine when worn.
Camo Inlay Hunting Style Beveled for Men: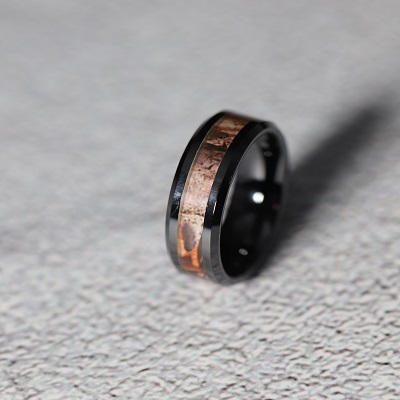 Black wedding bands are all over the place. They are one of the most popular choices for wedding bands and just the perfect gift for a wedding in 2019. It is latest in design and color, has a camo design in the center, also has the option of getting names engraved on the inner dome of the ring. It is made from high-tech ceramics which makes it light in weight, shiny and also very comfortable to wear.
Camo wedding ring with zirconia diamond for women: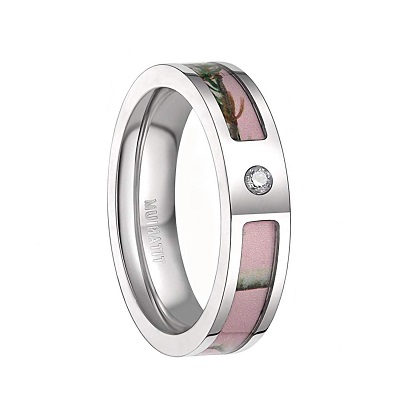 Wearing a ring with a tiny little zirconia diamond makes everything seem elegant and simple. Having this embedded onto a camo wedding band makes it even more graceful and attractive when worn. The most unique quality about this ring is that it is skin-friendly, made of titanium, has a lightweight on the finger, but looks very charming due to the tiny diamond added in the center. Women who are diamond lovers will surely admire this beautiful gift given to them and will never even think of taking it off or putting it away in the jewelry box and forgetting it.
Wedding ceremonies are beautiful and gifting rings make it even more memorable, especially with all the latest designs that have been added in this category of wedding rings. Camo rings is definitely a great choice as a wedding gift in 2019, which is why we have provided you with some amazing rings to check out and gift to your someone special.