Falling in love can be the most beautiful thing that can ever happen to someone. From finding the right one to getting engaged and finally exchanging vows on your wedding day to promise to be by each other's side forever; it all seems surreal. But, before you both are together as a married couple, you tend to take your time to figure each other out and to really make sure that you both have a strong commitment to each other, you exchange promise rings. This ensures a bond in the relationship that you are together and with time will figure out if you are the ones meant to be together by their side.
Having to exchange promise rings, you really need to invest a good amount of time and money to find the perfect match for your partner. You can also get matching rings for yourself and your partner or something so rare that really makes both happy and want to wear the rings all the time. If you are thinking of buying promise rings, then check the following black rings that are currently a popular choice amongst couples.
Vintage Wood Inlay Black Ceramic Ring: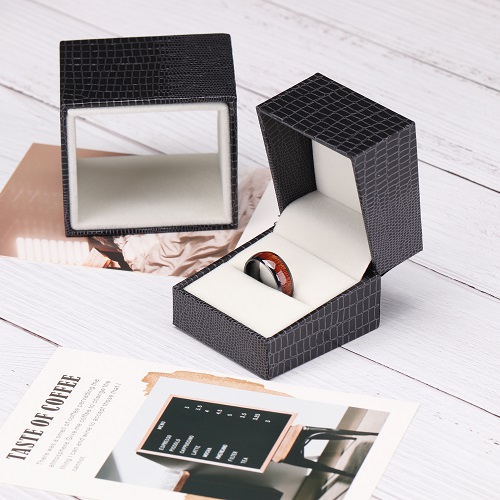 If you and your partner are old-schooled and like vintage items and also if you both love nature and are great fans of wood-like designs, then this might be the right choice for you both. This beautiful and latest style ceramic ring has a black dome body with a wood inlay in the center. It is very comfortable and is also scratch resistant, so you wouldn't have to worry about the wood inlay getting damaged anytime soon.
Laser Etched Deer Head Black Rings for Men: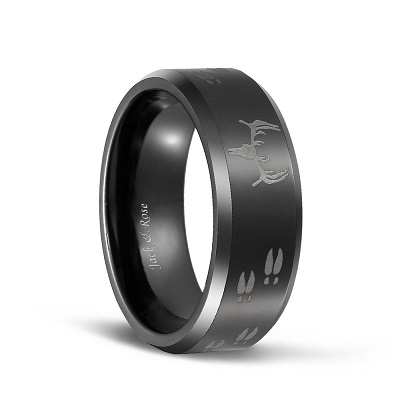 If your partner is truly an animal lover, then what more could be the best way to surprise him with a laser dear etched onto a promise ring? This amazing ring has a head of the dear along with its footprints. It has a thick dome made of tungsten with a choice of getting names engraved inside the dome. It is also scratch-proof and depicts quite the right levels of masculinity with its unique concept of an animal etched promise ring.
Unisex Plain Black Ceramic Ring: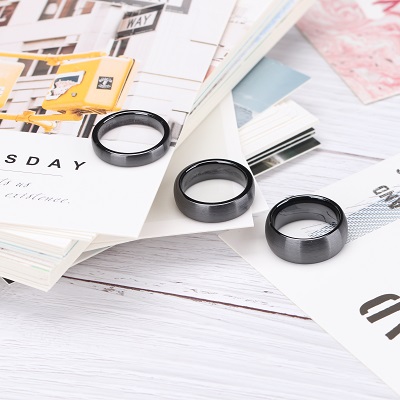 Not everyone likes wearing something too fancy on their fingers to show that they're committed. If you and your partner are very simple and like wearing plain items, then this ring is just the right one. It is a very thin and plain ceramic black ring that has the option of engraving a couple's name on the inner corner of the dome. It is very light in weight and comfortable to wear all the time. The best part about this ring is that
Black Ring with Thin Rose Gold Grooved: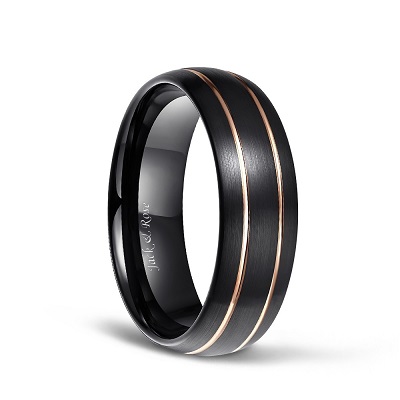 Rose gold on black is the true definition of classy. This beautiful ring is all that you need to match up your promise rings together. This black ring has a brushed finish which is scratch resistant and a super-comfortable fit when worn. The best part about this ring is its unique modern touch that really shows when you wear it on your finger. If you're planning on having this ring then know this, you'll have a lifetime guarantee and durability as it is made of tungsten carbide which is a very good material for long-lasting items.
Celtic Knot Eternity Black Band for Men: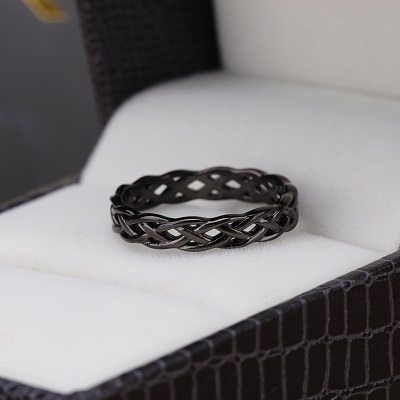 Love has no boundaries and hence, we call it an eternal feeling. The purpose of this ring is to bringing good luck in life and also depicting that these knots are eternal and that it has no beginning and no end.
With this Celtic knot eternity ring, you can really prove it to your lover how much you love them and how your feelings are truly infinite for them. This wonderful ring is made of sterling silver and an anodized black surface to give it a dark look. It is anti-corrosive, scratch resistant and also is skin friendly as it is made of sterling silver which is hypoallergenic to the skin. With all these amazing facts about this ring, wouldn't you want to grab it and gift it to your loved one?
Conclusion
To sum up, there is no such beautiful concept as gifting promise rings to your loved ones. It truly creates an unbreakable bond between two people that set to embark a new stage in life. Living the rest of your life with your partner forever and to cherish each moment spent with them is something that we all desire to have in life. If you really want to take things further, gift one of these amazing back rings to your partner and make it a promise to love them forever and always.