Your wedding ring needs a lot of consideration because it is with you for the rest of your life. The typical metal for a wedding ring is gold, although today you can buy rings of various metals. In order to make the appearance look more matching, the bride and groom should choose the same metal. Although the styles can vary, having the same metal gives the two rings a subtle connection. Here are the most popular metals for wedding rings:
Gold
This is the traditional classic choice for wedding rings. When choosing gold, it is best to match 14 or 18 carats of gold. These have the best look and durability. Gold with a purity of more than 75% is too soft for everyday wear and is easily scratched and loose. Below 14 carats will make the alloy more durable, but will not have the look you expect when it comes to gold.
Silver
Silver is a very soft metal that is easy to show scratches over time. It is not suitable for everyday wear. 925 sterling silver is an alloy commonly used in wedding rings. However, since silver oxidizes over time, polishing is required to maintain its gloss and color.
Platinum
Platinum is more expensive than gold because platinum is more difficult to manufacture and extremely durable. Because it is naturally white, platinum does not fade or lose its luster. It is also very scratch resistant. One thing to note is that if platinum is in contact with a metal, it tends to wear other metals because it is a very hard metal.
Titanium and tungsten
Titanium and tungsten are two very similar metals that are easily confused. However, titanium is a lightweight metal that is light in color and, although durable, is easily scratched. On the other hand, tungsten is heavier and darker and extremely resistant to wear.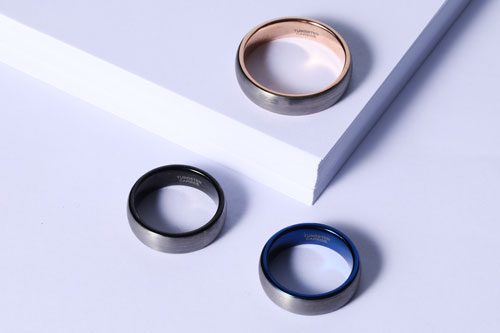 How to choose wedding ring to match engagement ring
Once you have decided on your wedding ring, you need to consider whether the new wedding ring matches your engagement ring.
1. The wedding ring of two stone or three stone engagement ring should be simple, so that the luxury of the engagement ring shines
If you have a two- or three-stone engagement ring, you may already have a lot of fine details. Now all you need to do is find a perfect ring that incorporates one of these elements to complete the look. You can pair classic gold and silver rings with timeless white rings to create a different match. If your engagement ring has a curved silhouette, choose a curved wedding ring to suit the design and create the perfect match.
2. If you have a gold engagement ring, get a gold wedding ring, but you can pair the different colors of gold with each other
Having a gold engagement ring doesn't mean you'll be hooked on a particular color. You can try a variety of shades of gold to create the ideal combination! Pairing different colors of gold is a great way to enhance the charm of your engagement ring.
3. Simple engagement ring requires a simple wedding ring
Simple and sleek engagement rings can't be paired with huge, sturdy wedding rings. Avoid using heavy-duty wedding rings and choose a stylish ring to complement your regular ring.
It's important to note that wedding rings and engagement rings should be similar in width to create a balanced and coherent overall look.