The concept of cheap titanium rings is born from titanium's entry in the jewelry sector. Titanium jewelry is considered to be the fastest growing sector in the jewelry market. Growth is a good thing, but sometimes it leads to some strange happenings. As the truth is our best friend, we should note that, even if titanium has a strong growth, it will be a long way until it threatens the dominant position of gold, platinum and silver. As for the price, the concept "cheap titanium rings" is a double positive statement, because, compared to a gold or platinum ring, a titanium ring is really cheap. If you looked for a ring that would be cheaper than the already cheap titanium ring, it would make you cheap. Before we come to the point, let us discuss some questions about titanium.
What Exactly is Titanium?
Titanium is a chemical element which is classified as a transition metal on the periodic table. It is the 7th most abundant metal on earth, and titanium metal has even been found in some types of meteorites – it is also believed that titanium is present on our sun too. The color of this metal is a very light white/gray, and the finish of the metal can be changed through polishing, brushing and other methods.
One of the most exciting things about titanium is that it has the highest strength-to-weight ratio of all the transition metals which means that even though titanium has a very low density and is light in weight but it is extremely strong. Titanium has a density of 4.11 while tungsten has a density of 19.25. A titanium wedding band will feel light like a feather on your finger.
What Type of Titanium is Best for Titanium Bands?
The properties of titanium can be altered by mixing it with other metals to create alloys – heat and finishing treatments too can affect the durability of titanium. Titanium metals are divided into grades – from Grade 1 to Grade 4. Grade 1 is the softest form of titanium while Grade 4 is the hardest form of titanium.
For the production of titanium rings, the best type of titanium is Commercially Pure (CP) Grade titanium which is 99% pure. CP titanium is available in Grades 1 through 4, but for rings Grades 2 to 4 CP is best. While these rings are extremely strong and scratch resistant, they can still be removed with regular cutting tools in the event of an emergency.
Most CP Grade 2 to 4 titanium rings can also be resized (although some cannot be sized due to the design of the ring) and engraved either with traditional engraving tools or with laser engraving methods.
What are the factors that result in the low price of titanium rings?
One reason is that they are so inexpensive is that the metal is not worth very much. Titanium bands are less expensive than those crafted from platinum, white gold or tungsten. The price of gold is at present around $900 per ounce, while the platinum can reach an astounding high of $2,000 per ounce. However, out of our expectation, titanium is merely 11$ a pound. 
Another reason is that the production of such rings is not intricate. Since titanium is less malleable than other metals used for jewelry, stainless steel production techniques must be utilized to get the desired end-product. To fashion a titanium ring: cut the shape from a titanium metal sheet, drill a pilot hole, machine down the harsh edges, hammer the ring with a mandrel to expand the interior wall, round the edges with a lathe and polish to finish. Like other types of bands, titanium rings are also available in a wide range of styles. Titanium can be polished or textured, can be colored, and can even have diamond embellishments and intricate detailing.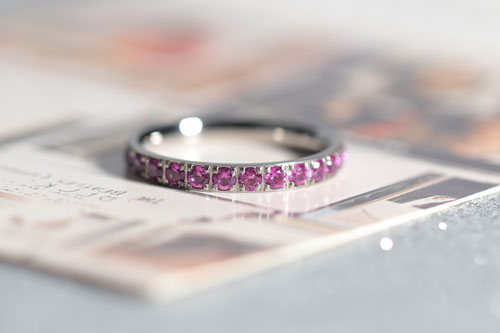 Finally, many people now tend to buy stylish rings with cheaper prices on the Internet. Now there are so many online sellers and fierce competition makes them not brave enough to raise their prices. They just obey the principle of "small profits but quick turnover. What's more, online cost is much lower than that of the physical stores.So the price is significantly lower than before.
Although titanium rigs are so affordable, it does not mean that they are of low quality. Instead, such rings are comfortable, durable and easy to care for. If your budget is limited, titanium rings is a good choice for it can maintain its luster for a lifetime.