1. The Date of Your Engagement
2. The Guests and The Venues 
3. The Wedding Party 
4. Ideal Honeymoon Time 
 
Planning a wedding is a challenging task, particularly for couples who have large families and whose opinions float around their mind. Although some couples are more willing to spend their time on the process, allowing anywhere from ten months to two years to plan, many would rather turn their relationship into formality as soon as possible. Maybe you think these things are too far from you, but the idea of tying the knot soon sounds great. How long do you really need to plan a wedding? Maybe many couples were ever haunted by this inevitable question. Now as an experienced wedding planner, I will discuss this issue as follows. You can take it as a guidance once you are in such a dilemma that you are tortured by the wedding schedule.
1. The Date of Your Engagement
Many boys prefer to propose to their beloved girl on Valentine's day or at the end of a trip. The date of your proposal actually will affect your wedding planning process. For example, if you'd like a fall wedding after getting engaged in February, you'll need to plan your wedding in eight months if you don't want to wait a year and a half.
No matter how short or long your timeline is, a wedding planner is a great first vendor to book. They can help you find and book vendors, and manage the small and large details for you. Thus you can be saved from the predicament where you don't know how to choose such details as venues and food. After all they are professional. But you'd better tell your thoughts and requirements to them and control the general style.
2. The Guests and The Venues
The number of guests also has a huge effect on the various budget categories. Sometimes, the easiest way to cut expenses is to limit the guest list. If you want a simple wedding, you can just invite your intimate friends and relatives. Otherwise you can send messages to the ones you want as long as the budget allows. Once you decide on the budget and the guest list, the next step in wedding planning is to choose your venues. People sometimes book venues more than a year in advance, so don't leave this decision for the last minute and never flirt with this matter for you are not sure whether it's still available at that time. Look for a convenient and affordable venue available on your date that won't take too much decorating and that's enough.
3. The Wedding Party
Choose the participants of your wedding party and ask them if they're willing to serve within their capacity. This offer the members the wedding party time to plan and makes it easier for them to provide some assistance for you. Discuss any expectations you have for them during the wedding planning with them so they know what they're getting into if they are in agreement with you. This is especially important for destination weddings. In the party, you still have to design well the time of the ceremony and speeches. Everything should be in their own places in strict accordance to the timeline to ensure other steps go smoothly.
4. Ideal Honeymoon Time
As you discuss your wedding with a wedding coordinator, they may ask you when you'd like to spend your honeymoon. Depending on your career, you may need to plan your honeymoon in the summer when you're off work or in a specific month of the year when your company is out of its busy season.
Many couples would like to spend their honeymoon the day after their wedding to enjoy the happiness of marriage, so determining your ideal honeymoon month is important when designing your timeline. You may find that you only have six or less months to plan your wedding in order to honeymoon at the best time. Another option is getting married and waiting a few months to leave for your honeymoon—especially if you prefer to spend more time on wedding planning to make a full preparation for these beautiful days.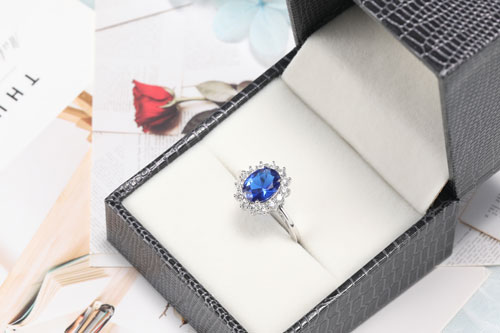 So the answer to the question is: wedding couples choose the amount of time they'll spend in planning their wedding in accordance with their own will and preference. Some of our wedding couples say they were glad that they finished planning their wedding within just a few months because it kept them from over-thinking their details, or getting impatient for the big day to arrive. They were glad to tackle more of the essential wedding details in a shorter period of time, and experienced less wedding stress than other couples they knew. They simply created a plan that worked best for them, and they were happy to get to the altar quickly, reaching their goal of being married, not just getting married. But for most couples, they are very serious about the divine and special day to spend as much time as they can to in order to have a deep impression on this big day, such as wearing unique wedding rings for each other. No matter which style you prefer, please keep in mind that you should make a full preparation. May all couples have a happy marriage!