1. Should I engrave wedding band? 
2. What ring is suitable for engraving? 
3. What should I engrave? 
4. How can I engrave the ring?    
The wedding ring symbolizes the eternal love and commitment between husband and wife. To personalize their wedding jewellery, many brides and grooms choose to engrave meaningful words, dates or phrases on their rings. If you want to carve your wedding ring, you should realize that there is an important history behind the tradition of carving rings. The custom of carving may have originated in Europe, where the name of the spouse and the date of the upcoming wedding are symbols of the family, so people choose to engrave them on the ring to commemorate this unforgettable moment. So, can my ring be engraved? Should I engrave wedding band?
1. Should I engrave wedding band?
This is a great way to show the unity of you and your new spouse. On the one hand, it can be a way of expressing special emotions, such as the emotional communication between you and the person you love. A carved wedding ring represents an eternal memory: the moment of the moment when two hearts are combined. This is a timeless fashion accessory for every outfit and every mood. On the other hand, it can truly personalize your ring and make it a precious souvenir that has been passed down from generation to generation for your family. This will make your ring unique.
2. What ring is suitable for engraving?
First, determine if your wedding ring can be engraved. Rings with a width greater than 3 mm are best for engraving. Any narrower ring will result in a font that is too small and often sloppy and illegible. Also consider the material of the strap: soft metals such as gold, platinum, silver, etc. can be easily machined or hand-carved. On the other hand, harder metals such as titanium, tungsten and palladium are more challenging. Still, some jewelry stores can rely on modern machines to write on harder surfaces, so be sure to consult a few different stores.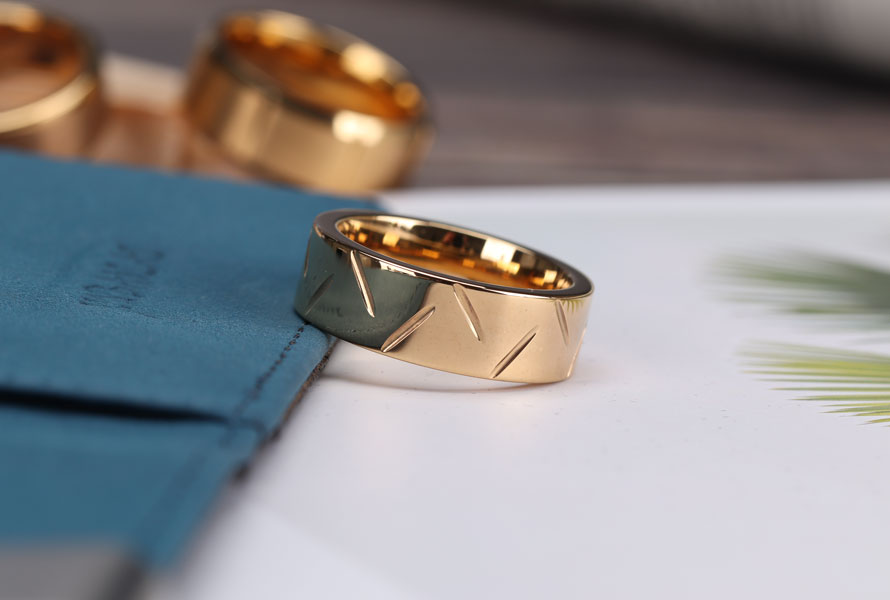 3. What should I engrave?
Couples have complete freedom in making wedding rings. As long as the length is right, you can choose anything, such as a word, a phrase, your wedding date, your name combination, or whatever they want. Talk to your jeweler before you make up your mind. They may have a maximum length, because anything too much may seem too small and illegible.
4. How can I engrave the ring?
After picking up the wedding ring, ask the jeweler if they offer the engraving. Some smaller stores may not have the right equipment, but they can recommend another local retailer. It is best to find someone with a lot of engraving experience, which can reduce the space for error.
The Find U Rings store offers a free engraving service. You can choose the fonts and content you want when you place your order. You can also upload your own handwriting and fingerprints to create unique wedding rings.